Google Apps Optimisation
We are currently providing set up of Google Apps for email so that google mail will integrate with yourdomain.com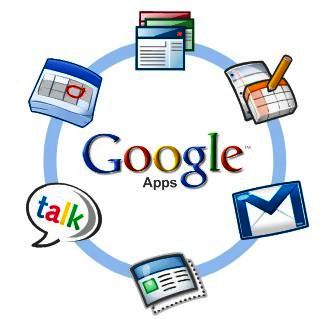 Reliable, secure web-based tools for any business.
Get online email, calendar, documents and more for your organization.
Powerful, intuitive applications like Gmail, Google Calendar and Google Docs can help reduce your IT costs and help employees collaborate more effectively.
What is Google Apps
Google Apps is a collection of web-based programs and file storage that run in a web browser, without requiring users to buy or install software. Users can simply log in to the service to access their files and the tools to manipulate them. The offerings include communication tools Gmail (10 email accounts of 7GB each on your domain e.g. : you@yourdomain.com), Google Talk, and Google Calendar), productivity tools (Google Docs: text files, spreadsheets, and presentations).

Google Apps allows website owners to use their own domain name with the service and to customize the interface to reflect the branding of that business. In this way, a website owner can use the functionality of Google Apps in a package (and with a URL) that is familiar and comfortable to use.
Reason's to switch to google apps?
Accessibility in anywhere you have a Internet connection you can access to google apps.
Files automatically save after a certain time ( less chances of losing important work if the power goes out)
ability to read and write documents without having office installed it is inbuilt
It is simple to share documents with others
Cost's for google apps business is free 10 Email Account 2gb of mailbox storage and more
easy of use, access documents,emails,IM's all from a simple and easy to use dashboard
Proven cost savings
Google's web-based messaging and collaboration apps require no hardware or software and need minimal administration, creating tremendous time and cost savings for businesses.
End users can use the familiar Microsoft Outlook interface for email, contacts and calendar as they transition to Gmail and Google Calendar.
99.9% up-time reliability guarantee
We guarantee that Google Apps will be available at least 99.9% of the time, so your employees are more productive and so you can worry less about system downtime.**

Support options :
Phone support for critical issues
Email support
Self-service online support
Google Apps (Free)
Same storage space as regular gmail.com accounts (over 7500 MB as of September 22, 2010)
Text ads standard (can be turned off in each account)
Limited to 10 Users within same domain.
Email attachments cannot be larger than 25 megabytes.
Limited to sending email to 500 external recipients per day per email account.
Google Apps for Business
50 USD/account / year
25 GB space for e-mail / account
Text ads optional
Integrated Postini "security, compliance, policy management, and message recovery services"
Conference room/resource scheduling
99.9% e-mail uptime guarantee
APIs for Single Sign On, etc.
24/7 phone support
Google Video (Private company version of YouTube.)
Limited to sending email to 2000 external recipients per day per email account.
Other Notable Features
Google Calendar

ability to view calendar any where's there is a Internet connection
ability to set calendar to completely private or share with anyone in thw world.
Google Docs

ability to view any Kind of document without installation
ability to update files and see who is viewing those files quickly
less chances of loosing important data
access documents anywhere you have a Internet connection
Google Talk

converse with others while editing documents
ability to have audio or video conversations without a active phone line
quick real time response from other employee's instead of waiting for a email response
Gmail

web access to email
large storage compared to most other email providers
reliability that email will be up 99.9% of the time for Google Business accounts
Google optmisation service
We are providing Google Apps Optimisation the service .
Get all this only for Rs. 350/- only